MG Motor Australia and New Zealand has announced a major partnership with leading NRL club, the South Sydney Rabbitohs, which will commence in 2022.
The partnership will extend over five years and will see the famous MG Octagon logo take pride of place on the front of the legendary red-and-green Rabbitohs jersey.
It also complements MG's ambitions to connect with Australians who have supported the brand on its journey over the last five years.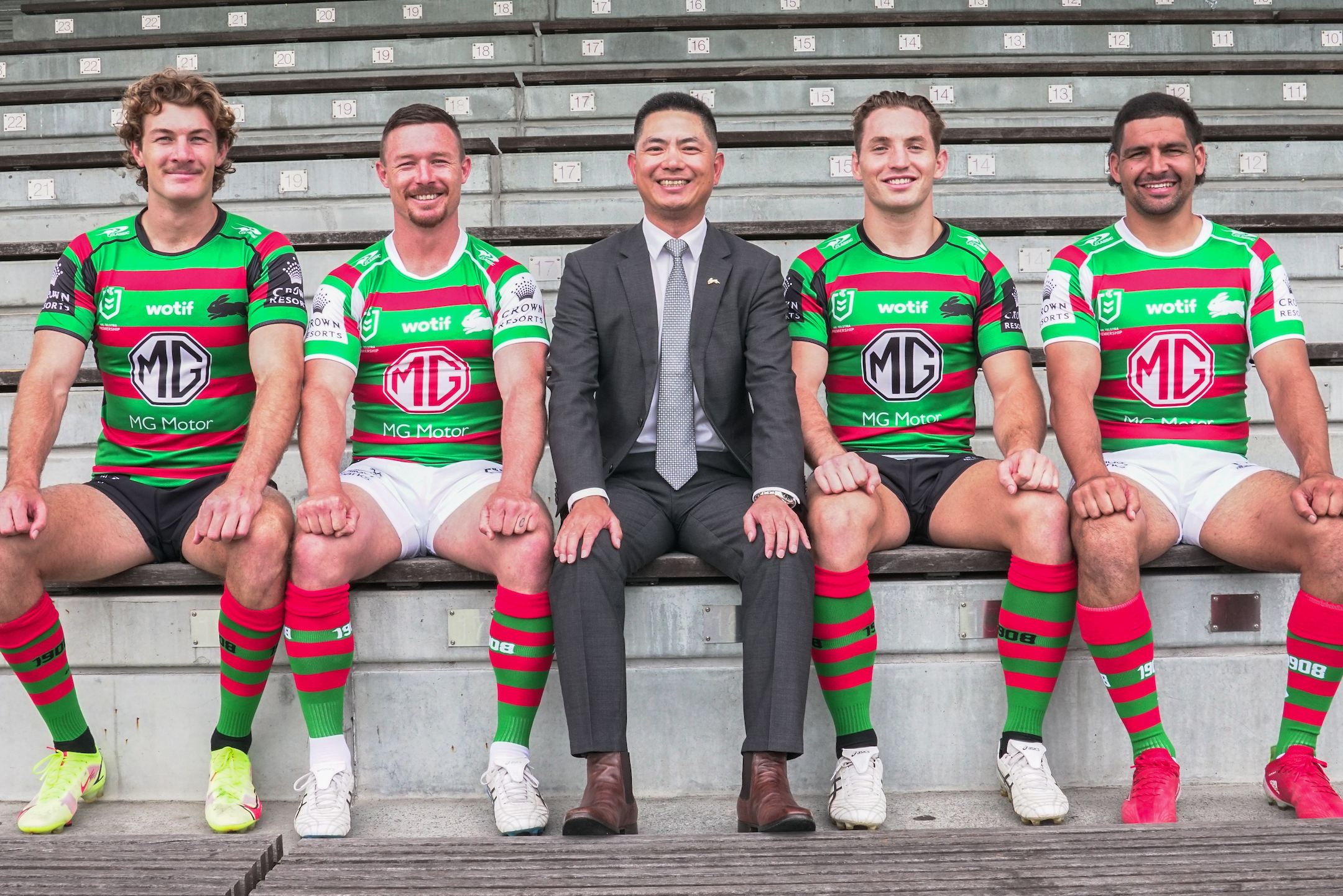 Combined, MG Motor can now directly interact with more than half a million Australian and New Zealand sports fans through its sponsorships across both countries.
As it prepares to celebrate its best-ever year of sales and an overall top-ten finish amongst Australia's sixty-plus automotive brands, the CEO of MG Motor Australia and New Zealand, Peter Ciao, said that sports sponsorship is about much more than just raw numbers.
"Through hard work and careful planning, MG Motor has grown steadily since its arrival in Australia in 2016," he said. "Now is the time to give back to the Australians and New Zealanders who have supported us by engaging with them and their families at a community level.
"Sports sponsorship is about much so much more than just a logo on a jersey; it's about passion, family and personal connections.
"The Rabbitohs are a proud rugby league club with an enviable heritage, a huge and vibrant fanbase and strong ties to the community through its charity work. I am excited to join them at a time where they are reinventing themselves for the future under their new CEO, Blake Solly."
MG is projecting 2021 sales in excess of 37,500 cars, a record for the brand in Australia, and it recently introduced an industry-first 7-year warranty offer and drive-away pricing into New Zealand.
It has also announced it will give away up to 3,000 EV wallbox chargers to eligible Australian regional hoteliers to support the growth of the EV network across the country.
"We are continually humbled by the support of our Australian and New Zealand customers, and their faith in our brand makes us strive harder to better serve them," said Mr Ciao.
The Rabbitohs, who played in the 2021 NRL Grand Final, are the most successful team in the NRL, with 21 premiership trophies on display at Redfern Oval.
Prominent and passionate investors in the club include famed actor Russell Crowe, renowned business leader James Packer and successful software entrepreneur Mike Cannon-Brookes, who are regularly seen at Rabbitohs games.
Marquee players including five-eighth Cody Walker, prop Thomas Burgess, winger Alex Johnston and centre Campbell Graham will drive a selection of MG vehicles, including the new HS Plus EV Vibe and the award-winning ZS T.
MG's award-winning Aurora EV charger wallboxes will be installed at Heffron Park in Maroubra for free public use. This is the location of the Rabbitohs' new Community and High Performance Centre which is due for completion in October 2022.
"We would like to thank CEO Peter Ciao and the team at MG Motor Australia and New Zealand for joining the Rabbitohs family in 2022 and for making a long-term commitment to the Club," said South Sydney Rabbitohs CEO, Blake Solly.
"In our discussions with the MG Motor team it became apparent that our organisations shared similar philosophies and goals and we both felt this was a partnership with immense potential to serve our fans.
"The MG Octagon badge is synonymous with quality and success right across the globe. It's instantly recognisable and we feel the same way about the Rabbitohs.
"MG started life in 1924 producing attainable sports cars with immediate success, much the same as the Rabbitohs following our establishment in 1908."